Bulk SMS marketing has become widely popular as businesses use it to establish connections with both their existing and prospective customers.
This highly effective approach enables them to achieve their goals effortlessly.
Business owners increasingly rely on SMS service providers to promote smooth connections with clients by sending messages in bulk.
Stick to learn how powerful SMS marketing can be in terms of driving revenues, and boosting your business operations.
What is bulk sms marketing?
Bulk SMS Marketing involves businesses sending promotional messages via text messages to a vast database of individuals.
Opt-in advertisements are distributed through text using an online dashboard and an SMS gateway, allowing for the efficient and widespread delivery of messages to a targeted audience.
It allows businesses to send campaigns to clients, notifying them about important information, sending updates, recommendations for customer experience improvements, and exclusive deals.
According to the SMS Global stats, SMS messages are opened (98% open rate), read (90% within the first 3 minutes), and are one of the least expensive methods of marketing communication (cheaper than social advertising and cheaper than email marketing in terms of open rates).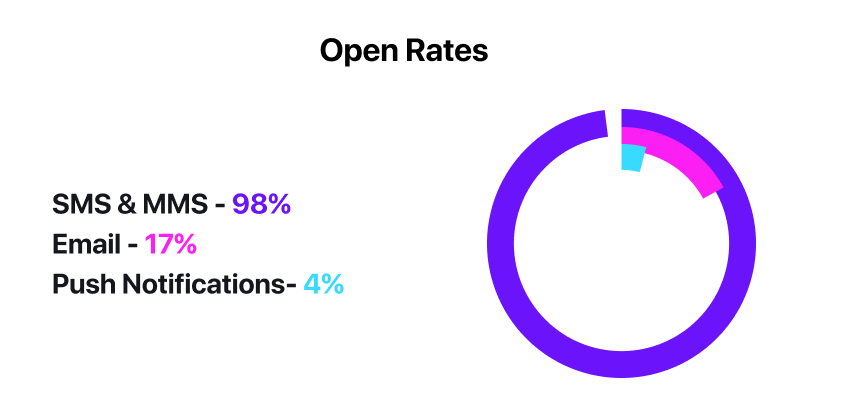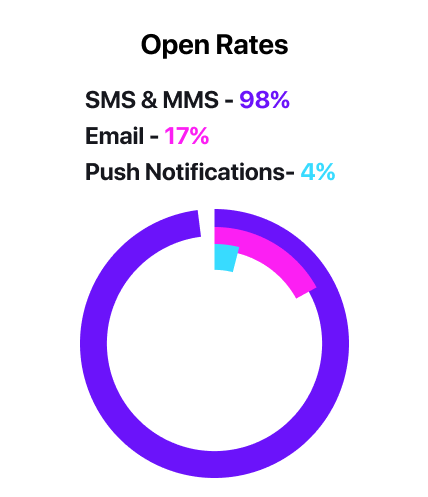 There are two types of Bulk SMS messages, namely: Marketing SMS and Transactional SMS.
Each type works best when used for a specific purpose.
Marketing SMS vs Transactional SMS
Marketing SMS
Marketing SMS is used to distribute promotional offers to new and existing clients.
This strategy ensures that customers stay up to date on the latest store promotions, sending exclusive information within minutes.
Marketing SMS is used for sending promotional offers and exclusive information about the latest sale offers to new and existing clients, ensuring timely updates.
Examples of marketing SMS include:
Promoting products or services
Boosting sales
Creating brand recognition
Generating customer interest
Encouraging customer involvement
Introducing new products
Extending event invitations
Providing discounts, coupons, and special offers
Requesting fundraising contributions
Conducting polls and surveys
Organizing sweepstakes
The ultimate goal of marketing SMS is to enhance customer engagement, purchase rates, and customer loyalty.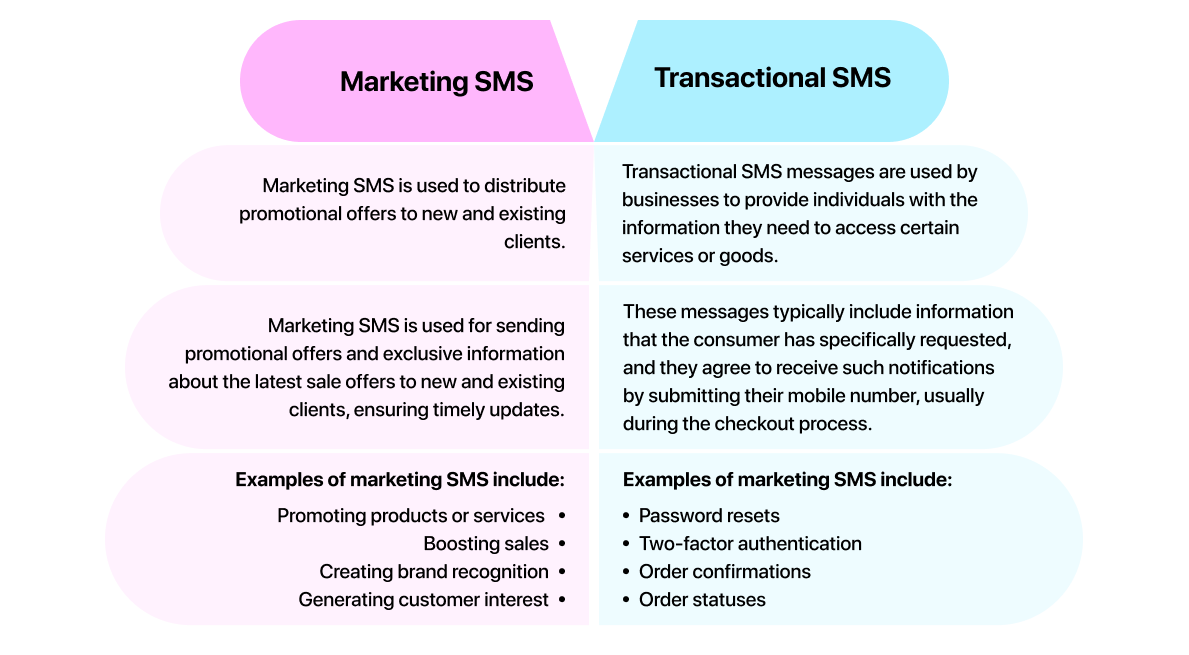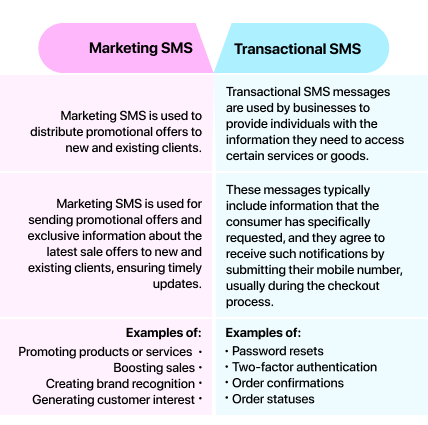 Transactional SMS
Transactional SMS messages are used by businesses to provide individuals with the information they need to access certain services or goods.
These messages typically include information that the consumer has specifically requested, and they agree to receive such notifications by submitting their mobile number, usually during the checkout process.
Examples of transactional SMS include:
Password resets
Two-factor authentication
Order confirmations
Order statuses
Delivery statuses and tracking numbers
Payment reminders
Receipts
Reservation or appointment confirmations
Recurring billing notifications
Examples of SMS Marketing:
A restaurant advertising a 50% discount on main meals on a specific night
A fashion store inviting customers to a VIP night
A gym is informing them about a new class
How to do bulk sms marketing?
Pick a bulk SMS service provider: When picking a text messaging service provider, you want to find one you can trust. So, take some time to do your research and choose a reputable company that suits your requirements.
Look for a platform that will give you valuable and up-to-date analytics and offers convenient features like personalized messages and scheduling options.
Our SMS API solution offers a powerful and innovative toolset designed to seamlessly integrate into any business model.
Adjust bulk SMS tone of voice to specific customer categories: When sending out bulk SMS messages, you must consider the tone of voice you use for different groups.
If you're reaching out to an older audience, avoiding trendy buzzwords that might confuse or alienate them is a good idea. Depending on who you are talking to, use more casual language.

Conduct loyalty campaigns: You can use bulk SMS to encourage repeat purchases and increase customer engagement like offering exclusive deals to special customers, sharing gift vouchers with VIP members, or providing extra discounts to the most loyal ones.
Follow up with customers: Keeping in touch with regular clients and rewarding them can attract more attention and increase brand visibility. Asking for their feedback and opinions about their purchases can also enhance their shopping experience.
Benefits of mass texting marketing
Bulk SMS Service is becoming increasingly popular, as it allows you to reach your target audience quickly and effortlessly.
Whether you hold a high-level position in corporate communications or run a small enterprise, it can benefit you big time.
Fast and simple integration
Implementing bulk SMS in your marketing strategy is fairly simple.
The first step is researching SMS Marketing Platforms and finding one that fits your business needs.
These integrations also come with personalization options based on your preferences to ensure your messages are delivered just the way you want.
Boost conversions
Even though we have so many instant messaging apps these days, SMS still offers many advantages for businesses.
One of them is that SMS texts still have a higher conversion rate than trending concurrents.
Sending promotions or deals via SMS increases the possibility of people noticing your business and taking action, leading to higher sales and business growth than other advertising methods.
Reliability
The vast majority of individuals nowadays spend a great deal of time on their smartphones – so it's easily the most reliable communication tool.
Sending SMS marketing has proven to be a more effective approach compared to emails, as emails often end up in spam folders, which means the recipient may never even see them.
On the other hand, SMS notifies the recipient instantly about new offers and has a much higher open rate.
Cost-Effective
Cloud telephone service providers offer options through text API or their platform, enabling businesses to connect with a multitude of customers effortlessly.
Compared to other advertising methods such as billboards, TV commercials, mobile ads, or magazines, SMS is a more cost-effective choice, making it the ideal digital marketing solution for small businesses wanting to attract new clients.
When you shoot them a notification, there's a really good chance they'll be instantly interested in what you're offering, especially when you include a link to your product or service. It works much better compared to other marketing methods.
What businesses can benefit from SMS marketing:
Online retailers
SMS serves as an effective tool for online marketing, enabling the distribution of promotional campaigns and sending order and shipping confirmations.
Travel agencies
In the travel industry, real-time information is highly sought after by consumers on the move.
SMS is essential for providing updates on gate changes, flight cancellations, weather alerts, and other relevant information.
Service providers with appointment-based operations
Sending SMS reminders ensure customers don't miss their appointments.
This helps prevent wasted time and money.
Large companies with over 100 employees
Sending urgent information via email can sometimes be too slow. Instead, using SMS for internal communication ensures that every employee receives time-sensitive information promptly and efficiently
Best practices for sms marketing
There are a few things you should know if you're thinking about implementing SMS marketing.
These sms marketing strategy tips usually produce the best results:
Get customers' permission and follow the guidelines
Before you start bombarding people with SMS messages, make sure you've received clear permission from them.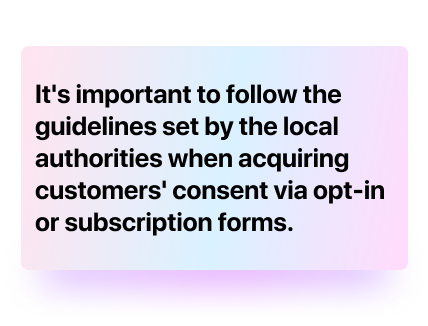 Add a personal touch to your messages
Imagine the impact of addressing your customers by their names in your messages. It's as simple as starting with a warm "Hi, Mr. X."
Everyone appreciates special treatment, and you can make your customers feel valued by customizing their messages and offering exclusive discounts.
Personalize your messages by tailoring the content to each customer's preferences, using their names to demonstrate genuine care and strengthen connections with your most loyal clientele.
Boost your database by using keywords
If you want to expand your customer list and engage with more people through SMS notifications, you can text specific keywords like "OFFERS" to 56263XXXXXXXXX, and in return, receive discount coupons for your favorite local shopping mall.
Spread the word about this keyword promotion everywhere, and watch as your follower count grows.
To avoid disruptions, it's important to be mindful of the recipients and their consent when marketing through SMS.
Protect your brand's reputation and make sure you only communicate with those who have given permission
Frequently update your customer database
Don't waste time and money dialing outdated phone numbers.
It's absolutely necessary to review your contact list regularly and remove unreachable numbers.
A good rule of thumb is the "three strikes, and you're out" policy.
Include a call to action
Keep your message purpose clear and straightforward so the recipient can act based on your shared information.
To encourage them to be more proactive, explain the steps they should take to access the information you've provided.
You can even use Voice API to explain the process, making it more effortless for customers who prefer listening over reading.
They can follow specific voice commands to complete the CTA.
Follow when your customers are engaged the most
Understand when your customers will respond and choose the optimal time to send bulk SMS messages. If you expect a specific action or response, provide your clients ample time to reply.
How to get started with bulk sms marketing?
Growing a new business can be challenging as the market is highly competitive, but if you apply the correct promotion and marketing tactics, you can succeed quickly.
According to market data, Bulk SMS remains a popular choice for years due to its high success rates, given that over 95% of smartphone owners carry their devices at all times.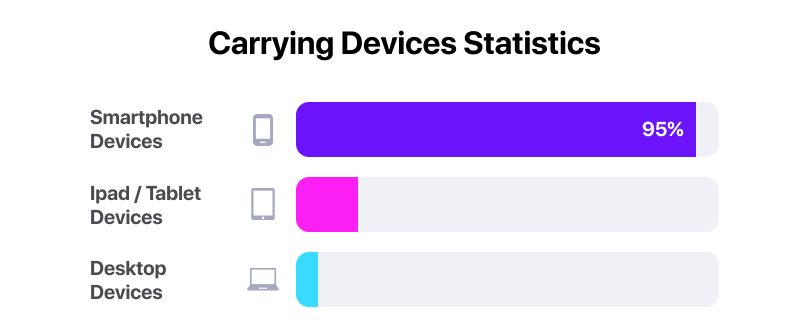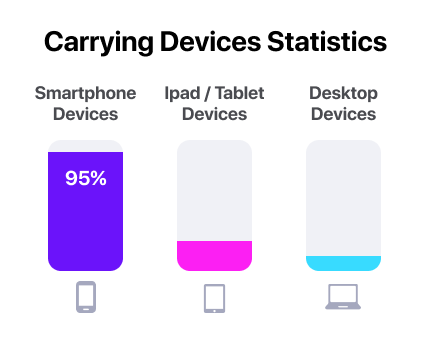 Thus improving your chances of reaching your target demographic.
Understand your target audience
It's crucial to capture the interest of the person receiving your message and excite them about your products or services.
Tailoring your emails or offers to specific customer base segments is vital.
Take into account factors such as location, gender, age, and past purchases when sending out emails.
Sending free lipstick offers to male customers might result in a low response rate most of the time; moreover, it can lead to losing some of your loyal customers.
For this purpose, you must understand your customer's purchase history and collect demographic information to successfully target your efforts and make the most of your marketing campaigns.
Monitor your campaigns
It's important to keep track of how your SMS marketing campaigns are doing so you can get a more precise idea of where you should improve in the future.
How many responses did you receive?
How much profit did you generate from your investments?
Try sending different types of offers at different times of the day or during specific hours to see what works best.
You can also target specific customer groups to find out which ones bring the most positive results.
Keep your messages brief and to the point
Since SMS texts can only contain 160 words, make sure the message you send is concise and direct.
Keep your messages short, and emphasize the value or reward the recipient will receive.
Or you can use the TextGrid MMS API to send exciting short videos of your latest products and services to grab their attention and spark their curiosity.
Keep your recipient list organized and ensure your messages are constantly updated.
It's important to avoid bombarding your audience with the same old content.
Create a feeling of urgency
It's important to give your coupons and vouchers an expiration date.
Setting a limited-time validity allows you to create a sense of urgency among your customers, ultimately boosting conversion rates.
Set a frequency and stick to it
Bombarding your users with messages can easily become annoying and lead to declining service usage, while delayed messages might cause users to lose interest and forget why they signed up in the first place.
Maintaining a successful marketing campaign requires consistency, at least each month or week.
The frequency of your messages should be tailored to your target audience and align with the objectives you wish to accomplish with your content.
Bulk SMS marketing – The key to lasting business success
The era of relying solely on one marketing channel is long gone, as we have already discussed one exciting tool in the marketing sphere: bulk SMS.
Bulk SMS marketing, when done correctly, may be a successful approach to reaching out to clients and advertising your products or services; however, it is essential to respect their time and preferences.
So, if you're considering implementing this strategy into your business, consider hiring a professional Bulk SMS service provider.
Making the appropriate decisions can help you stay on track and efficiently reach your business goals.